Electronic Countermeasures was back working with Beck, pulling out all the stops for The Night Running Tour. This one was special as we got to utilize our full arsenal of special techniques and processes including digital 2D/3D CG, hand-drawn animation/illustration, live-action practical effects, Notch real-time effects, paper cutout animation, and even "Xerox" copier generation loss. The show included new scenic for Beck filled with mirrored surfaces, an upstage LED wall and LED hero riser for Beck, lasers, and a significant increase in cameras with both pedestal and robo-cams.
We had the challenge of creating animation that could live and react to Beck's dynamic stage presence while integrating with the cameras and scenic in a seamless manner. This meant building all of the looks and songs in a modular fashion that could be layered and include windows for IMAG inserts and corresponding Notch effects to treat the IMAG so it felt like both the animation and live cameras lived in the same worlds.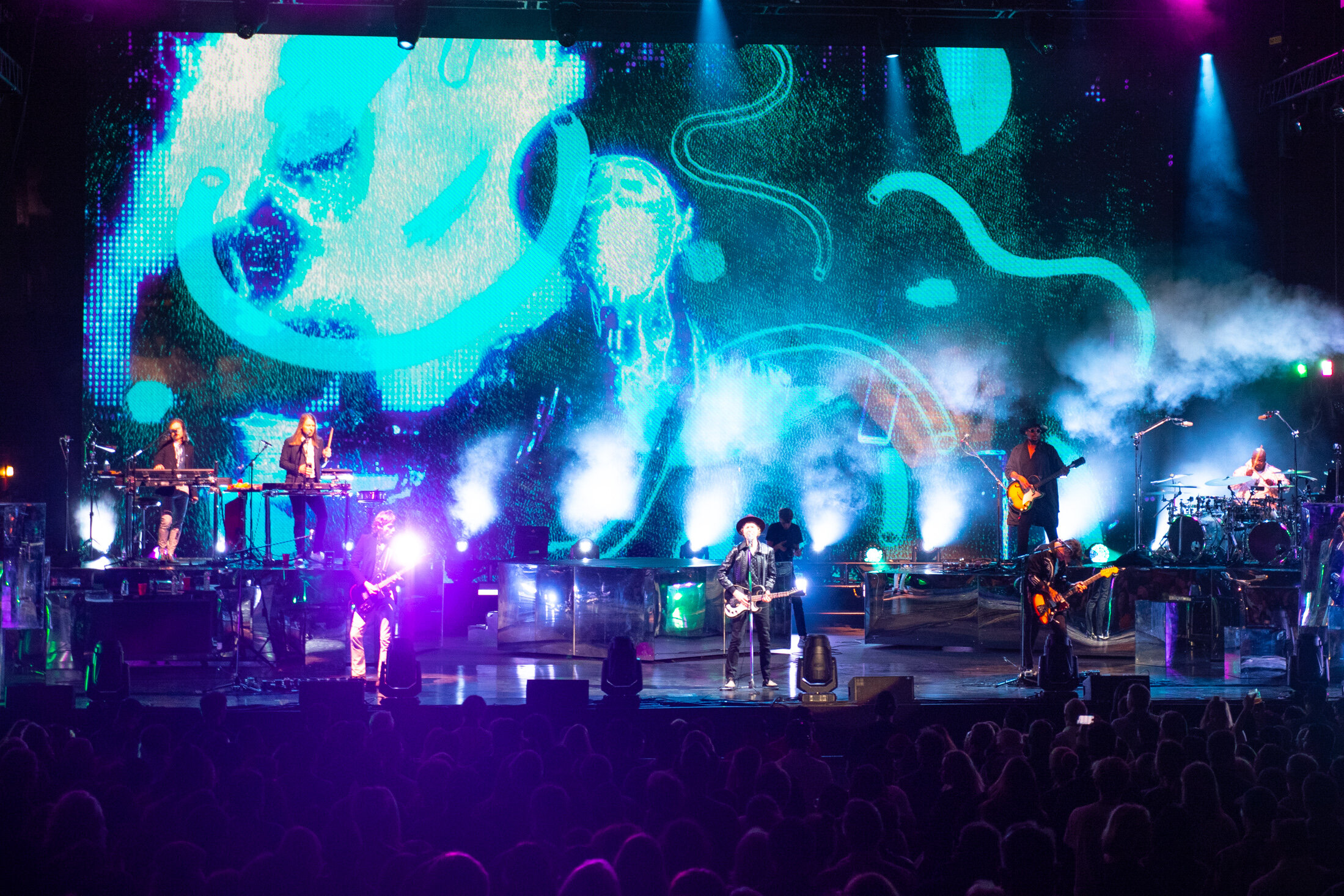 To follow the improvisational nature of Beck's performance there is no timecode here, we pulled in data from Control Freak's audio analysis toolkit to trigger changes to both conventional video and real-time Notch effects while also utilizing lighting designer Steve Mill's skills behind the console to busk both video and lighting.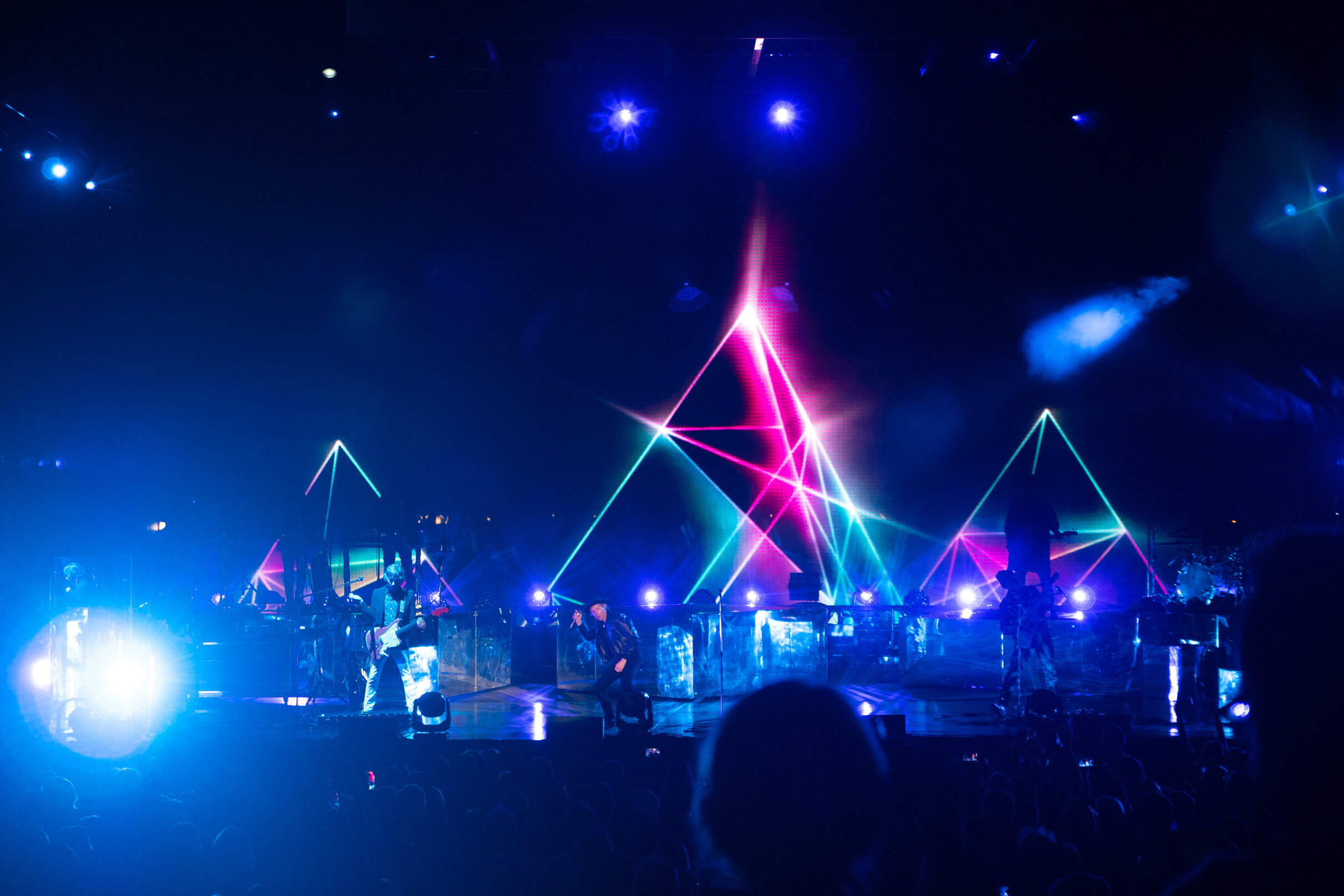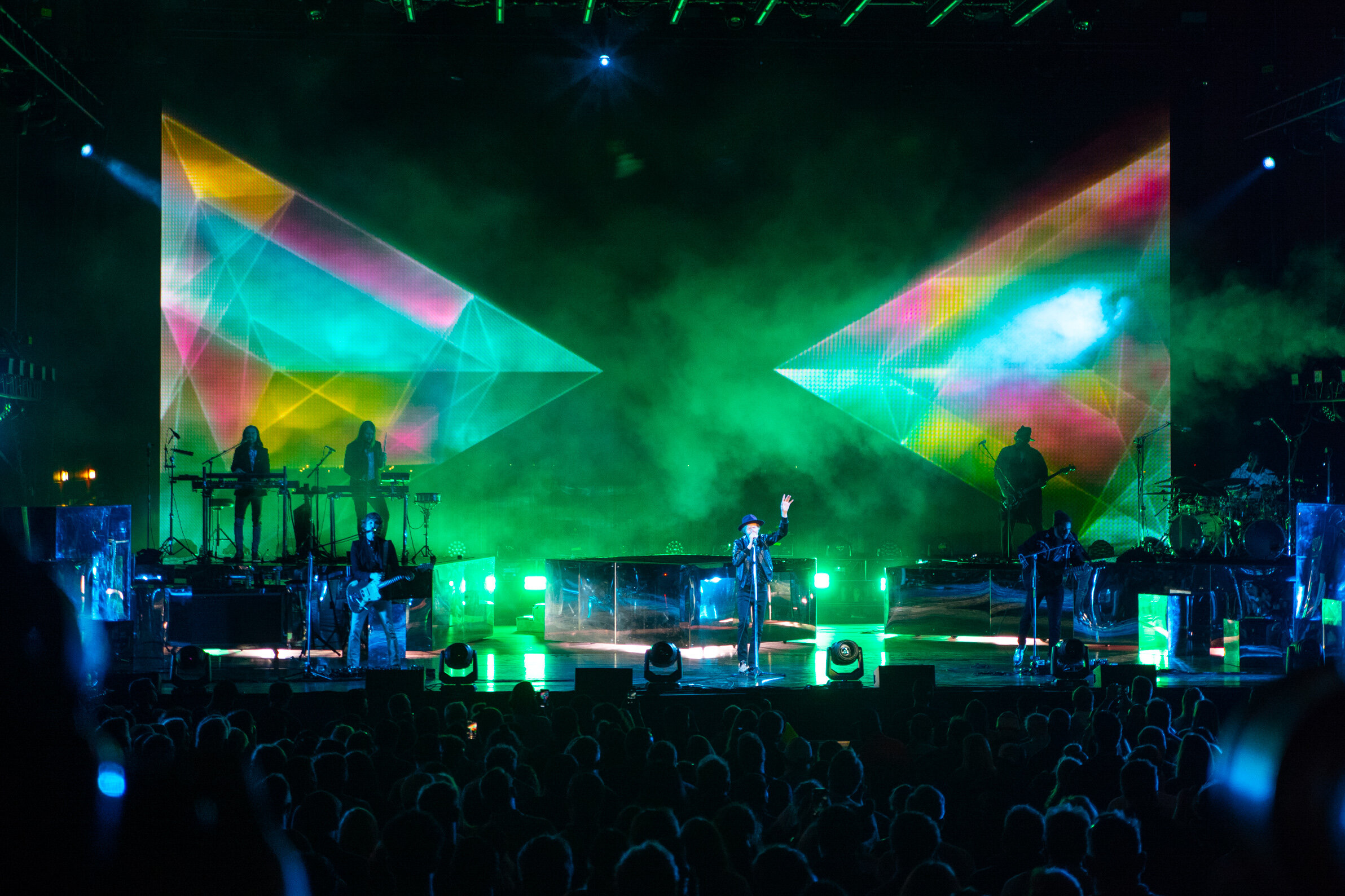 To create an extension of the mirrored set, we also shot a series of miniature mirrored boxes with passes of moving light that was performed to follow both the song and stage lighting to extend the set but through practical means.
We also jumped in to help with disguise d3 media server programming, camera direction, the initial design and specification for a life-size mirror array, and solving the rather unique design challenge that fulfilled Beck's desire to insert himself into an infinity mirror box during the live show.
The newly formed Electronic Countermeasures: Skunkworks stepped in to solve this challenge and created the PFX 01: Double Helix and PFX 02: Infinite Trapezoid. The PFX (Practical Effects) series are bespoke mirror-based optical effects that take in and manipulate live IMAG camera and media server feeds and outputs unique analog visual phenomena all while being housed in a standard rack-mountable PC chassis ready for touring.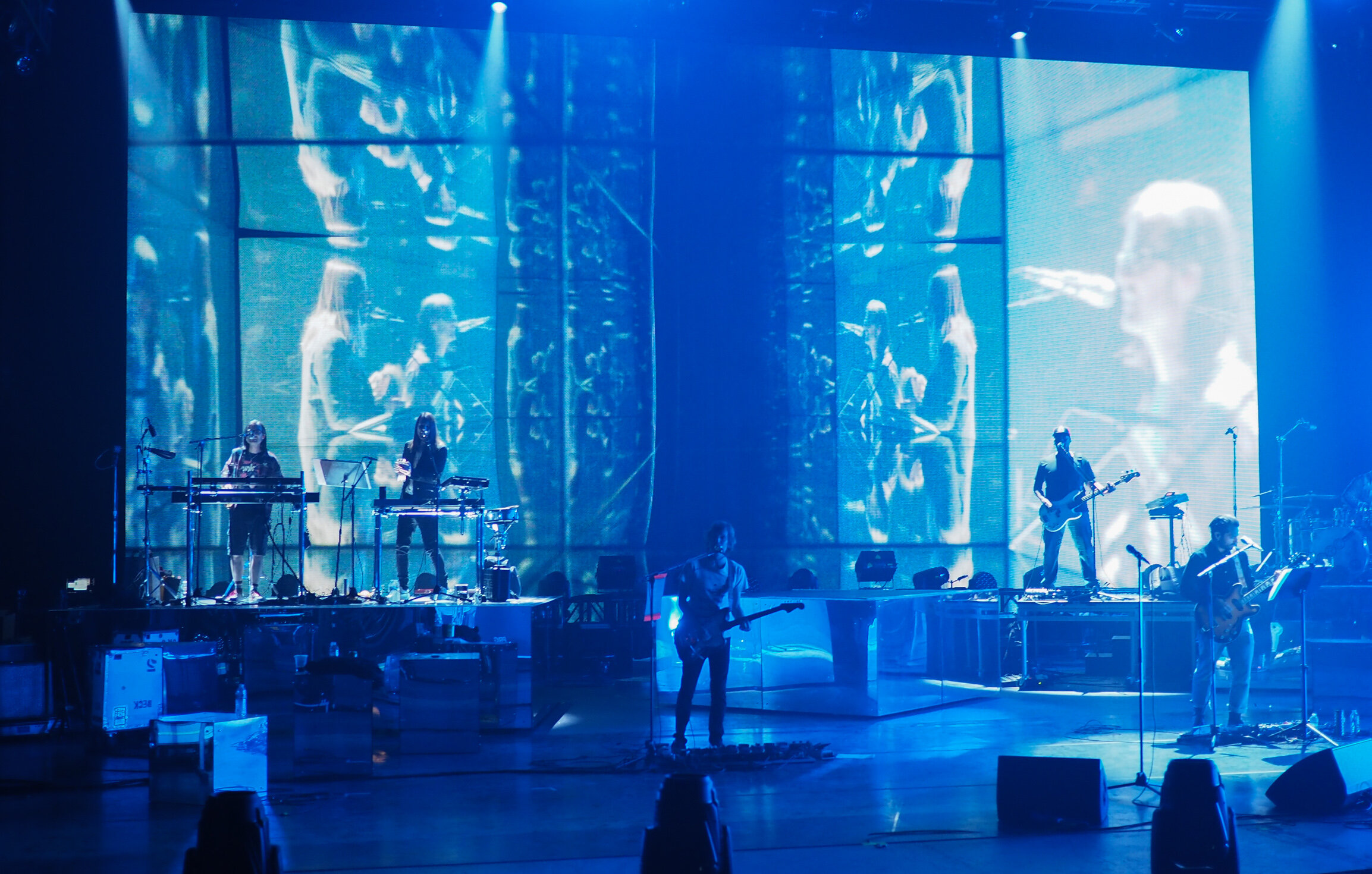 Practically placing Beck inside of a life-sized infinity box on stage would be a huge logistical challenge for the touring team so we proposed the wild idea of miniaturizing Beck using the live camera feed and piping it into a box consisting of a tiny screen to bounce his image onto an array of tiny mirrors and re-capture it with a camera and pipe it back out to the screens. As this was infinitely more achievable then closing the artist into a life-size version of the same setup, Skunkworks started cracking away sourcing parts, doing visual tests, and using its array of rapid prototyping tools to make this a reality.
In the end, we created 2 boxes the PFX 01: Double Helix sliced up 2 incoming SDI video feeds into alternating strips receding in space while the PFX 02: Infinite Trapezoid took in 1 feed for a skewed folding trapezoidal take on the infinity box. This was done in conjunction with animator/filmmaker Calvin Frederick who is a veritable optical and camera wizard and Amber Padgett who came in to help fabricate the final boxes.
Thanks to the stunning roster of animators and fabricators who helped make this possible: Patricia Luna Alfiorova (Hand-Drawn Digital Animation), Calvin Frederick (PFX 01/02+), Jess Iglehart (3D CG), Amber Padgett (Fabrication), and Melody Yenn (Hand-Drawn Analog Animation, Paper/Natural Textures, & Illustration). Special thanks to Steve Mills and Sacha Bambadji for trusting us to make something spectacular.
Credits
Lighting Design: Steve Mills
Production Design: Steve Mills & James Maloof
Animation, Video Design, Realtime Effects & Optical Effects: Electronic Countermeasures
Media Servers: Control Freak
Powered by d3 disguise GX1 media servers.